Q.

Why would i need to register?
A.
If you only want to read the posts on the forum you do not need to register. If you would like to comment on someone's posts, add a sighting of your own or start a new topic in any of the sections you will need to become a registered user and log in.
Registering
Click where it says "Register" near the top right-hand side of the screen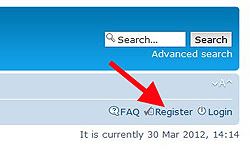 You will be transferred to the Registration pages, the first one of which lists the Terms and Conditions which you must agree with to be able to register.
Click the button at the bottom that says "I agree to these terms"
This will lead you to a page where you choose your own user name (the form will not accept an email address as a username mainly for the reason that your username is what is displayed when you post a sighting/comment and could potentially lumber you with lots of spam). For a user name you can choose anything that is between 3 and 15 characters long, consisting of letters and/or numbers. Some people have registered using their own names (you will see Bill, YvonneB, B.RABBITTS etc. Some people have registered with other names such as MisterT, Crex Crex, Cynipid).
Type in your email address (if you have a hotmail or gmail address please see this post for further information:
viewtopic.php?f=13&t=514
)
Confirm your email address by typing it in again
Next choose a password
Confirm your chosen password by typing it in again
Choose Language
Choose Timezone
Type in the confirmation code that shows
There will be a slight delay before your account is activated as this is done manually by Curracag Admin who also checks to see whether you are a Curracag Member (non-members are also allowed to register but do not have as many "privileges" as Curracag Members). This is to help prevent spammers and undesirables signing up who could then immediately start posting unwanted or abusive articles. Please be patient, Curracag Admin also has a life and occasionally needs to leave the computer to go birding, shopping and visit friends!
Once your account is activated by Curracag Admin you will receive a confirmation email and you will then be able to come along to the forum, log in with the user name and password that you chose when registering and be able to post your sightings, help people with their identification, start a conversation about something that interests you (Birds, Plants & Flowers, Insects etc), and also make announcements for example if you are arranging a local nature or wildlife-related event.
Any problems, please don't hesitate to ask
admin@curracag-wildlifenews.org.uk