Please note that all previous posts relating to Colour Ringed House Sparrows can be found at
Colour Ringed House Sparrows - Previous Posts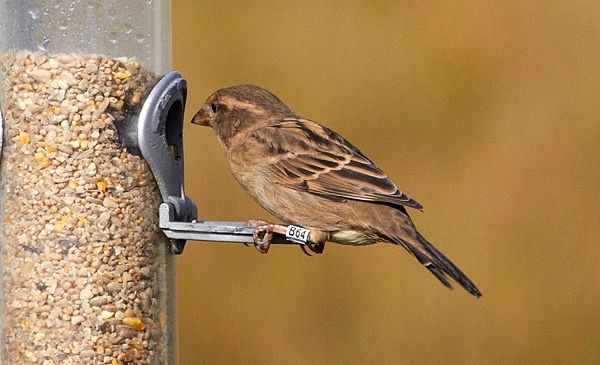 As we enter the third year of study here at Askernish, it gives me the first opportunity to look at the resident population of House Sparrows in the study area compared to previous years. As we enter the 2013 season, the population has risen from 51 in 2012 to 64 this year, an increase of 25%. There is also a much more of an even balance between the sexes with almost equality (33M, 31F) compared to last year (28M, 23F).
Of the 51 individuals in 2012, 36 survived through to this season. Preliminary analysis would suggest that the Females had a higher survival rate than that of Males with 18 of the 23 making it through to this season compared with only 18 of the 28 Males.
Of this years 28 new recruits, all of which were ringed between April 2012 – March 2013, 19 were juveniles from 2012 whom have remained within the study area although 2 individuals were recorded in South Glendale before returning in 2013. Another 2 were Females ringed as adults in the 2012 RAS season, and 7 were ringed as adults between August 2012 – March 2013. The latter birds are presumed to be wandering juveniles from 2012.
As the season progresses, it will be interesting to see how the dynamics change yet again. Of most interest to me will be if the increase in population is sustainable. Initial thoughts are that this will be dependant upon breeding opportunities/nesting habitat and food availability.
As always, if you should see any of these birds with their distinctive black and white rings in your garden or on your travels, I would be very interested to hear about it. You can post the sighting here on the forum or email me at
askernish.sparrows@gmail.com
Breakdown of the current House Sparrow Population in Askernish